0
High School Students & Growing.
We have a name for the students who join us on a service trip. We call them World Changers.
Feb. 19 - Feb. 26 (Panama)
March 18 - March 25 (Panama)
April 16 - April 23 (Guatemala)
July 16 - July 23 (Honduras)
July 27 - August 4 (Honduras)
Feb. 17 - Feb 24 (Panama)
March 16 - March 23 (Panama)
April 13 - April 20 (Guatemala)
More to come!
To ensure everyone's safety, students and adults traveling with School the World are required to be fully vaccinated against COVID-19.  Our rationale and other requirements and precautions to ensure the safety of our students can be found on our FAQ page.
Hear From Our
World Changers!
"You're impacting someone else's life. You might not think of it, but they're also kind of impacting yours. It's an experience that stays with you for a really long time"
- Teni, 3-time returner, Newton Country Day School
"This trip has been so moving for me and I 100% recommend it if people want to help a community in need and find more about themselves in the process. I would do it again." - Vincent, July 2022
"Also, within our group, I found a real community with the people I came on this trip with. Not knowing anyone I was stepping out of my comfort zone, but in the last week I have made friends whom I feel like I've known for years." - Maddie, July 2022
"This experience has given me a new outlook on happiness in general. These kids have shown me that happiness is much more than the place you're in and what you have, it is about the community and living in the moment. I hope I can take this lesson and start to appreciate all the little things."- Lily, July 2022
"This has been one of the best weeks of my life and I will cherish the memories forever" - Quinn, July 2022
One of the biggest takeaways I got from this trip was that you do not need material items to be happy when you are surrounded by people who you love and who love you. When you are with the people that you love, all you need is the right mindset and to be grateful and appreciative of what you have.
- Grace, Winchester High School, February 2019
Watch this video to take the Journey with one of our World Changers!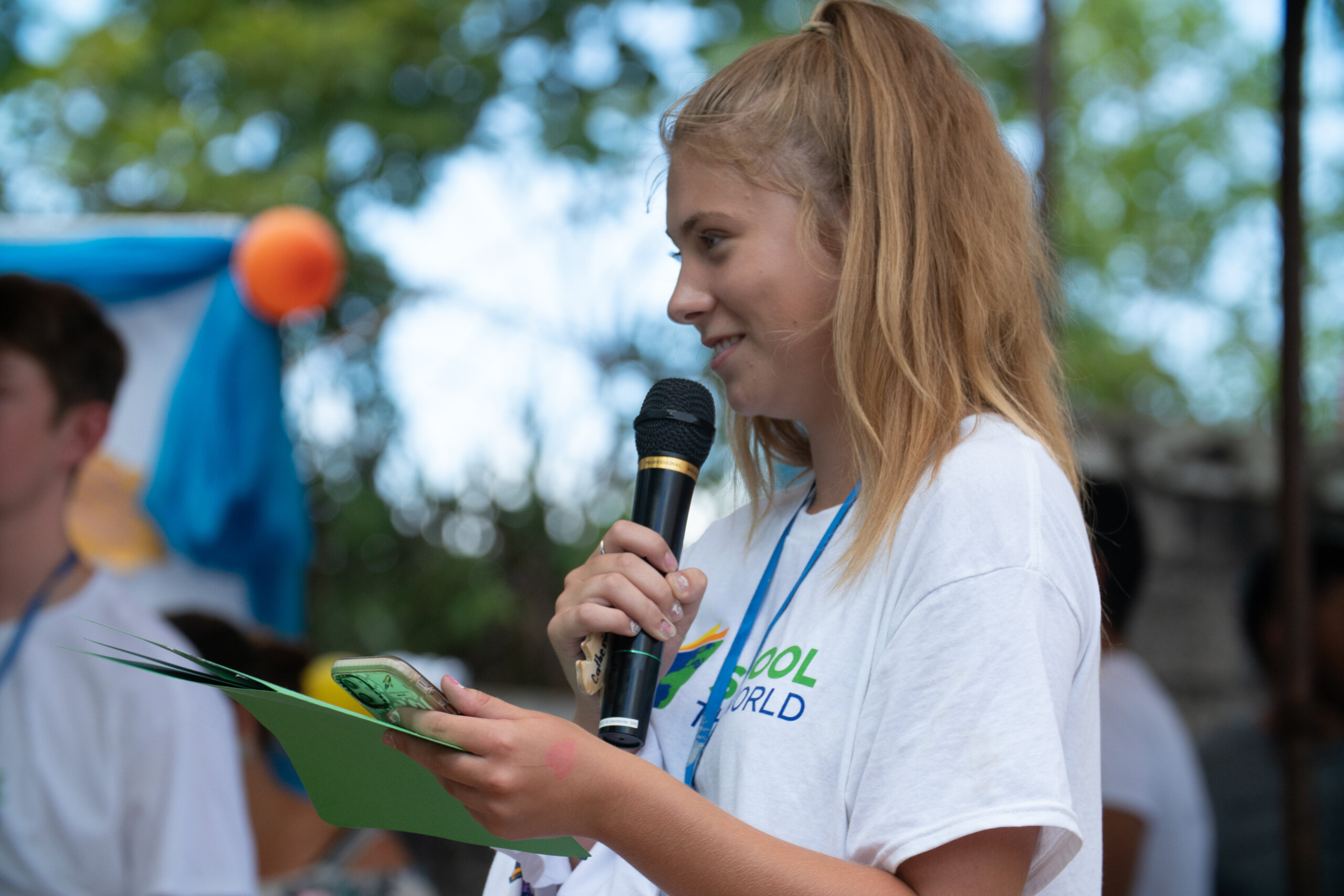 Request An Information Session In Your Town
Do you think our service program would be of interest to your local community?
Let us know and we'll schedule a time to come and speak to interested families and students in your school or town!
Take your involvement with School the World to the next level with this exciting leadership opportunity! Our Ambassador Program is designed for World Changers looking to continue their impact and get more involved in our work.
Once accepted as an Ambassador you will help to spread the word about our Service Trips and ultimately help grow the program!
Family Service Trip
GIVE YOUR FAMILY AN ADVENTURE OF A LIFETIME!
Bring your family to Guatemala,  Panama or Honduras and in one week give your children, nieces/nephews or grandkids a greater appreciation for travel & for helping others, all while making unforgettable memories!

I was incredibly fortunate to travel with my nieces Annabel and Elle to finish a school in Guatemala. Working along side them and watching as they experienced the joy of working to improve the lives of children was an experience I'll always cherish. Thanks to School the World for providing all three of us with this wonderful opportunity to make a difference, and to do it together as a family!

Stacy Rubin with nieces Annabel and Elle, July '18
Chaperone & Nurse Volunteers
We're always looking for nurses and chaperones to join us! Learn how to become part of our volunteer staff:
Questions about our service program?
Interested in coming as a nurse or chaperone?
Fill out this form and we'll be In touch!